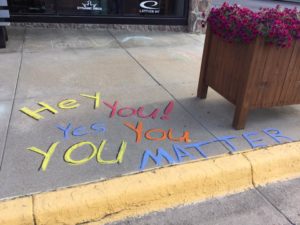 Tuesday, August 21st is the 8th annual Chalk the Walks!
Here's how you can get involved this year:
Be a Chalker – join the Facebook event and post photos of your positive chalk messages there on August 21st so we can all enjoy them.
Be a Community Partner – help us spread the word! Call Michele for localizable posters or download a pdf to print over or an editable PowerPoint version.  In July we'll have a press release template to help you promote your local Chalk the Walks event.
Be a Chalk Partner – If you're company or organization is gathering to chalk, join the list of 2018 Chalk Partners by letting Michele know where you're chalking and be a designated location for free chalk in your city.
You can chalk positive, inspiring messages from anywhere on August 21st. Then post them on the Facebook event page to share them with the rest of us. Want some inspiration? Check out some of the images from last year's Chalk the Walks.