About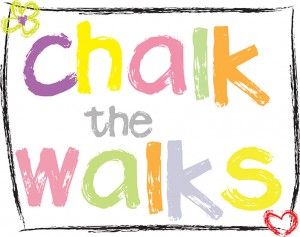 Chalk the Walks (a project of The Joy Team) is all about spreading joy, optimism and inspiration through the magical power of sidewalk chalk.
Remember when you were a kid and you'd draw pictures and write happy thoughts with chalk in your driveway and down the sidewalks of your  street? And the adults always smiled when they read the big, pastel-colored messages? This is just like that. Only we're bigger now. And we don't have to go in the house when the street lights go out.
The idea is as simple as it was in childhood: write happy messages, have fun doing it, spread some joy while you're at it.
Have questions? Contact Michele McKeag Larsen:
(p) 503.724.7442
(e) michele (at) thejoyteam.org
2014 Chalk the Walks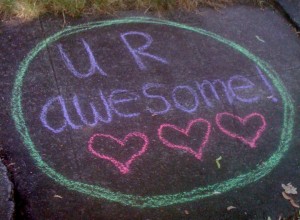 Tuesday, August 19th will be our 4th annual Chalk the Walks!
Here's how you can get involved this year:
You can chalk positive, inspiring messages from anywhere on August 19th — last year we had over 900 chalkers from at least 47 states and 6 countries (Australia, Canada, England, Mexico, New Zeland and US)! Then post them on the Facebook event page to share them with the rest of us. Check the event page often to see new images from all over being posted.
If you're in the Vancouver, Washington / Portland, Oregon area, we'd love to have you chalk with us.  We'll be in Uptown Village, right on Main Street in Vancouver from 11:00 am to 1:00 pm. You can find us set up at Mini Mozarts' Preschool, 1919 Main Street.
Please Chalk Responsibly

In many cities chalk is considered a graffiti medium.  Chalking in some cities is legal as long as it's on your own sidewalk, driveway or on private property with permission.  In others, chalking is illegal altogether.  So, please chalk responsibly and check with your city for regulations first.
Best Practices:
Be respectful

– consider your neighbors and others who will see your chalked walks.

Remember the mission

– the goal here is to spread joy, optimism and inspiration; if what you're writing doesn't accomplish that in a pure and simple way, please reconsider.

Keep it clean

– it's very difficult to spread joy if your content is offensive; if an 8-year-old shouldn't read it, don't write it.

Have fun

– play is important to our mental and emotional health; connect with your inner child, be playful, have fun.
Need some ideas? Here are some suggested messages that will scatter joy, sprinkle smiles and shower love.