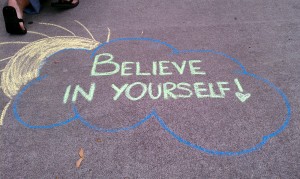 Tuesday, August 23rd, 2011 was our first annual Chalk the Walks! It was a smashing success with international participation.  Photos began to be posted in the middle of the night Pacific Time from Holland, then the East Coast of the USA and on into the evening from our West Coast chalkers.
A great big THANK YOU to Umpqua Bank for giving chalk out in all 5 Vancouver, Wash., branches; and to Be The Gift for promoting the event and participating with so much enthusiasm and joy.
Here in Vancouver, Washington, a bunch of people joined The Joy Team and Be The Gift out at Esther Short Park from 10:00 am to 1:00 pm and helped up chalk positive messages all the way around the park.
We compiled as many photos as we could on our Facebook page.  Take a look at them whenever your spirits need a little lift.
Here's some of the media we received:
Want to be involved with Chalk the Walks 2012? Like us on  Facebook and follow us on Twitter so we can keep you posted on the details.