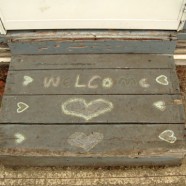 Welcome to Chalk the Walks!
Chalk the Walks is a project of The Joy Team — just another way to spread joy, optimism and inspiration. The idea is to write positive messages on your sidewalks, driveways and parking lots in plain old sidewalk chalk.
Why chalk? Well, it's incredibly cost effective, washes off easily and brings back the playfulness of childhood.
Although any day is a good day to spread joy, optimism and inspiration, our first annual Chalk the Walks day is August 23, 2011.  We're hoping to get people from all over the U.S. out chalking their walks with a positive message.  We'll be posting images you send us here, on Facebook and Tweeting them as well–magnifying your efforts with our own through social media.
Who wants to play?